2019 Florida DI Pins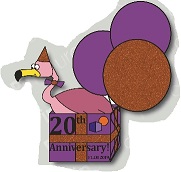 2019 Florida DI pins are available for $1.50 each plus shipping. E-mail us at information@FloridaDI.org for instructions. Include your name and address along with the number of pins you'd like to order. We'll figure in the shipping cost and get back to you with the total order cost.
Also, visit https://sites.google.com/divirginia.org/superaffiliate/shop-di to check out the rest of the pins and t-shirts available from affiliates in the Southeast Super Affiliate Tournament. T-Shirt orders are due by Monday, March 1st. Pins will be available for a bit longer.